Humble Leadership
IT NEVER HURTS TO BE REMINDED of the need for humility. We tend to fall back on transactional relationships and rule-based leadership. Edgar Schein and Peter Schein call this Level 1 based leadership.
What they advocate in Humble Leadership is moving to and developing an organizational culture based on Level 2 relationships. That is relationships that are intentionally personal, cooperative, and trusting.
Level 2 relationships come naturally with friends and family, but no so much at work. Level 2 relationships come about by seeing others as a whole person and not just as someone filling a role at the moment. It's being able to say in actions and words, "I want to get to know you better so that we can trust each other in getting our jibs done better."
In my own work, it's not uncommon to see people who would tell you that relationships are important to them, shift into Level 1 transactional relationships with the people they are working with. Transactional relationships can somehow make us feel like we are serious and getting down to business by avoiding all of the relationship stuff. Not to mention, it's just easier to avoid the hard work of developing trust and openness with another person or team. But it comes at a cost. As they describe it, Humble Leadership is about "building relationships that get the job done and that avoid the indifference, manipulation, or, worse, lying and concealing that so often arise in work relationships."
Much of our work life occurs at Level 1 because the services, stores, hospitals, and businesses we deal with are organized bureaucratically to deal with us at that level. This is typically the source of our dissatisfaction with bureaucracies. We don't like being treated so impersonally, especially at work.
"Evolving the managerial culture from Level 1 to Level 2 is the defining task for Humble Leadership." The authors suggest that to move from Level 1 to Level 2 relationships, we need to personize our relationships at work. By that, they mean getting to know them as a whole person by minimizing subordination so that we "emphasize collaboration, joint responsibility, and your own willingness to help them succeed." One of the best ways to get that started is by learning together "because in that context the boss and the employee can give each other direct feedback and suggestions on how he work could be done better."
In a Level 2 workgroup Humble Leadership emerges by enabling whoever has pertinent information or expertise to speak up and improve whatever the group is seeking to accomplish.
The process of creating and maintaining Level 2 relationships requires a learning mindset, cooperative attitudes, and skills in interpersonal and group dynamics.
The Heroic leader will no longer be the leader with all of the answers, going it alone to forge a new future. The leader of the future will need to be humble, cooperative, and open. Leadership will be expressed as "we together."
At the end of the book, there are exercises to help you shift from Level 1 relationships to Level 2 relationships.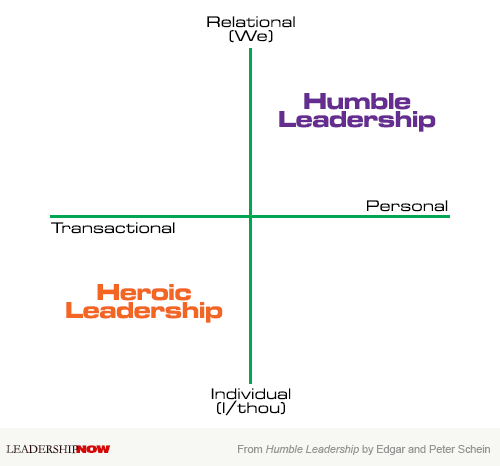 * * *
Of Related Interest:


  Leadership as Provocative Competence


  The Essentials of Theory U
---
About Michael
Since 1980, Michael McKinney has been the president of LeadershipNow to encourage you to develop the leader in you — to become an active participant in shaping your future and the future of others.  In 1980 he also founded M2 Communications as a way to manufacture and develop tools to improve your performance and enjoyment of life through the use of educational web sites, articles and multimedia presentations. He is also the publisher of Foundations Magazine—a personal development e-zine—and is the president of the CenturyOne Foundation—a non-profit organization that promotes biblical archaeology, historical and biblical research, lectures and publications on subjects pertaining to the time of the first century C.E./A.D.
Forward this email to a friend


Copyright © 2018 LeadershipNow, All rights reserved.
You are receiving this email because you opted in via our website.Our mailing address is:
LeadershipNow
235 Bellefontaine St
Pasadena, Ca 91105Add us to your address bookWant to change how you receive these emails?
You can update your preferences or unsubscribe from this list.