From LEI staff:  This is another good reminder that culture is vital as is continuous organizational improvement
Reposted by LEI:
---
>Employees Do Care – and How that Helps your Bottom Line
Posted: 07 Aug 2017 10:25 AM PDT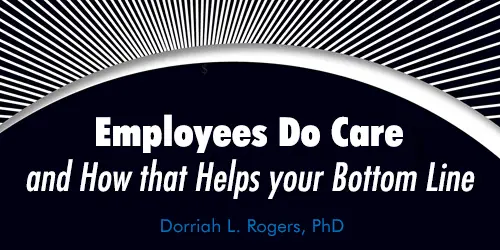 OFTENTIMES managers and executives push for organizational change and growth, yet their businesses continue to suffer from profit loss, lack of productivity, a decline in employee morale, and frustration. Why? Is it due to employee ineptitude or apathy? Managers sending the wrong message? The answer to both questions is a resounding "no." Employees do care about the bottom line, and managers are correct in their message. Both groups understand what is important and why it is important – but struggle around HOW to improve their company's bottom line. There are two solutions:
1. Create a behavioral culture of continuous improvement
Managers and executives must promote a culture of continuous "improvement" as opposed to a culture of continuous "growth." And there is a reason for that distinction. In my experience, many companies view "growth" as increased top-line revenue or sales, additional product lines, or entry into new markets, for example. Growth is typically more of a step event, as opposed to improvement, which is embedded and incremental. In my opinion, none of these are the true indicators of success. Success is only possible when you can do all of these things AND increase profit.
In order to develop a culture of continuous improvement there are two primary areas of focus: behavioral changes and a clear system to enable ideas for change. What happens within organizations as they push for change and growth? For one, behaviors change. Where once a handful of individuals made key decisions, these decisions are now spread across numerous departments and individuals at all levels of the organization. Agility and flexibility are replaced by process and a mind-numbing disconnect from business goals. Innovation and creativity are supplanted by overhead creep, loss of productivity, and poor business decisions. Managers and executives need to own these impacts and make some changes. To make this happen I recommend the following:
Acknowledge the difficulties. Cultural change is difficult as it forces established habits, hierarchies, processes and people to think and behave in unfamiliar ways. The knowledge that these difficulties exist is the first step to overcome them.
Overcome the difficulties. Overcoming hurdles to organizational change requires a unified effort and message from management, as well as the identification, empowerment and support of several key change agents.
Make it stick. Ensuring the sustainability of cultural change requires the ongoing measurement and assessment of your business performance, behaviors and employee attitudes.
2. Provide a process for employee-owned, sound and innovative business decisions that are tied to sustainable growth and profit.
Decide to Profit: 9 Steps to a Better Bottom Line was written specifically in order to provide a step-by-step guide that aligns both employees and managers around connecting all ideas and decisions that affect change to the financial goals of your company. Employees have a clear system that links decisions to the financial performance of their organization. Managers have a ready tool to shape their organizational culture and business outcomes. With this system, both leaders and employees can adapt and change through external transformations in the marketplace and increasingly tough competition, and ultimately, maintain net profit.
The 9 Steps enable both employees and managers to avoid common decision-making mistakes and taps directly into the fact that your employees DO care about your bottom line. The book also provides checklists and tools to foster a creative and idea-driven culture within your organization, and, ultimately, easy to understand and implement guidelines to ensure a financially sound future. The chapters outline each of the steps, its application, checklists, critical questions to ask, and easy-to-use forms for managers and employees. Imbedded within each step are checks and balances and a process for accountability so that managers and employees can remain in sync in both their thinking and actions.
In order for the 9 Steps to work effectively, the culture of the organization implementing them must reflect an ongoing and continuous curiosity, which ties directly back to the first recommendation. Culture and process are inextricably linked. Complacency and surrender can kill this curiosity, and creating this type of culture can be extremely difficult especially if historically your people and processes are imbedded. Within the 9 Steps (Steps 1-8), a process is imbedded that allows alignment between employees and management that is focused on the right decisions for the right reasons: to ultimately make money. Step 9 is designed to ensure that your people and your ways of thinking are always asking questions, always challenging yourselves, never accepting the as-is, and ensuring that whether you fail or succeed at change or innovation does not quell the desire to constantly come up with new and better solutions. And Step 9 has a built-in feedback loop that continuously brings you back to Step 1 and so on. So between cultural behaviors and a straightforward internal process that ties directly to the financial success of your organization, leaders can provide both the tools and inspiration for success.

* * *

This post is by Dorriah Rogers, Ph.D. She is the author of Decide to Profit: 9 Steps to a Better Bottom Line. As the CEO of Paradyne Consulting Works, she shares her last twelve years of consulting and research for numerous Fortune 500 companies, large government entities, and the US military. She provides a step-by-step guide to avoid common decision-making mistakes, how to foster a creative and idea-driven culture within organizations to ensure a financially sound future.